Our decision to come to Lake Havasu, AZ for the rest of December, and Christmas, was, literally, a flip of the coin. We'd stayed in the Parker Dam area a few years ago for 3 or 4 days and really enjoyed it, but hadn't really been to Havasu City. We didn't even make a reservation which was pretty risky, this being a "snowbird" haven. Lucky for us the snowbirds don't tend to arrive until after the first of the year, so there was room. There are already snowbirds here, from Minnasota, the Dakotas and Wyoming. And Canadians. We've met lots of Canadians. And they come here for 4-6 months. I couldn't do that, there's too much I want to see and do, but that's me and that's them.
Anyway, Lake Havasu was created in the 30's when they built Parker Dam on the Colorado River. It's a lovely lake, truly. With a big island in the middle, on which we are staying. So we have to cross The London Bridge everytime we want to go anywhere. That's cool. Lake Havasu is an outdoorsperson's paradise. First, there the lake and watersports. Steve, the bartender at Martini Bay, says from March through October the lake is shore to shore boats, lots of drinking and partying, and lots of water accidents… yeah, glad its winter. Off the lake, the hiking is amazing. Probably the best place for hiking that we've been yet. In 3 weeks, there is no way we could possibly hit every trail. SARA Park to the south is somethingsomething recreation Area. It has a firing range, a BMX course, a model airplane area, a dog park, soccer and baseball fields, a real racetrack, and miles and miles of planned and semi-planned hiking trails. There is something for everyone. You can simply head down the washes for miles or easy hikes, or you can hit the elevations, some of them pretty drastic. Fabulous park. Right next door is another multi-acre BLM area with hiking. North of us is Havasu State Park with hiking, dry camping and a lovely interpretive desert plant garden. I've forgotten my camera both times I've been there.
There is also Havasu City. Downtown is about 3 miles each way from the Island and we've walked in several times. It's a cute little downtown, with some very good bars and restaurants. The have an art fair on Friday nights and Hotrod night on Thursday nights. It's the holidays and, while there are a lot of people, Hotrod Thursdays haven't been well attended. A couple of beautiful cars, but few. Oh well.
The weather. Locals say this is the coldest winter they remember. Its usually in the low 70's at this time of year. It's been in the 50's and 60's. Which actually isn't so bad for hiking. There was actually a dusting of snow after the last rain on the surrounding mountains. THAT was a fun rain. Not. We were out in it. Thunder, lightening and hammering rain. We were drenched in seconds, and we were dressed for it. We actually hid under the bridge. The London Bridge, is that cool or what? When it let up a bit, we sought Solace in the Barley Brothers Brewery. Nice place. Brewery right there on site. They own most the nice restaurants in Havasu. My favorite is Maddogs, downtown. They have a rockin' outdoor bar with nice big heaters. Mark was taking a class at the shooting range downtown, so I walked into downtown to meet him for supper at Maddogs. The place was walltowall people, inside and outside. A nice guy actually gave up his seat so I could sit down. By the time Mark got there it at 9, it had cleared out quite a bit.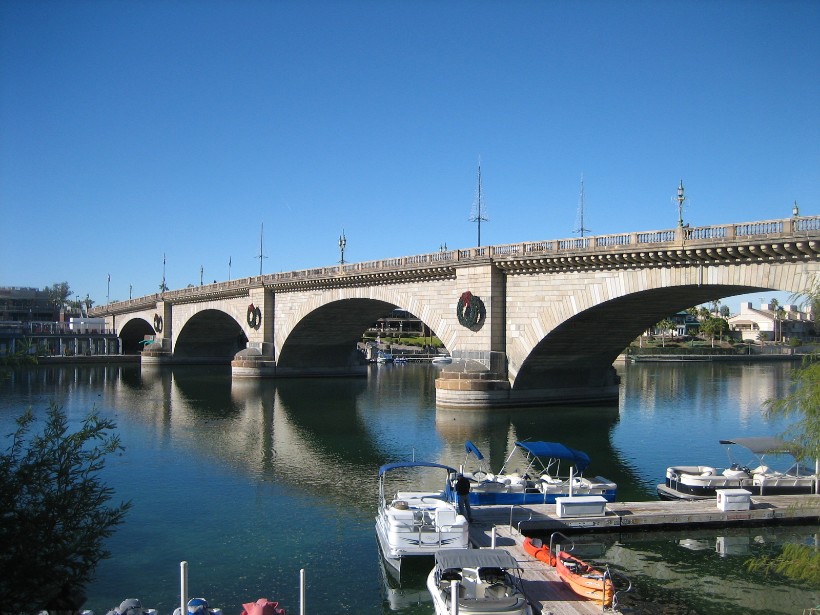 The London Bridge WAS falling down. In 1969 Lake Havasu bought it, fixed it, and connected Havasu City and The Island with it. Its really a lovely bridge, tourist attraction or not. We're staying on the island, so rarely a day goes by when we're not crossing the bridge...sometimes several times a day.
Above, shots from the bridge. Left: the Island and right, part of the English Village.
Below, Mark and Bogart at the fountain in the courtyard at the entrance to the English Village, and Mark walking across the bridge.
There are more lighthouses in LHC than any other city in the country. There are currenty 19 of them in 1/3 scale, and replicas of famous lighthouses. And they're cute as heck. And they all work. With all the boat traffic, not just the watesports, but actual traffic between California and Arizona, these things things provide valuable navigation assistance.
| | |
| --- | --- |
| Above: A replica of the Robert R. Manning Lighthouse on Lake Michigan. Right: The East Quody Head Lighthouse from Cambobello Island in New Brunswick. | |
| | |
| --- | --- |
| The most "famous" trail in SARA Park is Crack in the Rock, or SARA's Crack. Its only a few hundred yards long, but its challenging, tight, and absolutely gorgeous. I kep saying "wow" every few feet. No way to really photograph it, but I tried. We had to do this one before the rain came, because it fills up and is closed after the rains. | |
The "Picnic Table" is the second best known trail at SARA Park and is considered the most challenging. Of course, we made it more challenging by taking a shortcut that was anything but. Left is a photo of The Picnic Table from the ground. Right is a photo of the first mountain we scaled thinking it was a shortcut. Left below is hiking down the first mountain and starting up the second one. Right below you can see the river from the elevations.
| | |
| --- | --- |
| See , I AM here. Here is me at the top. | And yes, there IS a picnic table at the top of the picnic table. We stopped for a picnic lunch. |
Hiking in The Red Grotto. Have I told you how much I love rocks?
Just shots from the various hiking trails we were on. Above left: the trail to Pilot rock, these mounts lined up just right. Above right: the lake peeking through the mountains. Below left: jagged volcanic mountains. Below right, the city of LHC over the mountains.
Merry Christmas from Lake Havasu City, Arizona.
Zsa posing with the Christmas decorations

The Christmas tree in the courtyard between the English Village and The Hotel which housesMartini Bay bar and restaurant

The English Village choreographs lights with Christmas Music for a very entertainbing affect. This was taken from the bridge, and this particular song was Vince Guaraldi's Linus and Lucy from A Charlie Brown Christmas. Very fast and an amazing light show.

Lights all along the London Bridge
We spent Thanksgiving week and then the two following in the greater Palm Springs area. We love Palm Springs et al, and have spent several Thanksgivings here. We were suppose to go to Joshua Tree. Who knew that side of the mountain is so frikkin' cold. And windy. OK, it was record winds, but they showed no sign of relenting according to the local news. Neither of us were happy. Oh we saw tons of Joshua trees, but we were COLD. It was actually Mark who said "I don't want to be cold. I don't want to be anywhere that's cold". So, we packed up and headed back over the hill to the lovely Coachella Valley.
We stayed at the Elks for a while. Great location on the border of Indio and La Quinta. It was 3 miles each way to downtown Indio , which we walked many times. And 3.5 miles each way through La Quinta if we wanted to shop for anything, which we did and we walked many times. We averaged 6-10 miles a day of "urban" hiking.
Downtown Indio has a tortillaria that we were told people come all over the valley for. So was walked there for chips and salsa. The chips rocked, but my salsa is better, so I made an avacado and tomatillo salsa, maggies, and we had happy hour by the fire. yeah, this doesn't suck. Sitting out by the fire drinking magaritas, in December. The second weekend in December, Indio also hosts the international Tamale Festival. We'd walked into town for somereason the evening before and wathced them setting up. It was far bigger than I could have imagined - the entire downtown of Indio was blocked off. Part of it is a huge carnival and the rest is booth after booth after booth of tamale vendors. All different catagories: the commercial category, the gourmet catagory, the traditional category, and the amateure catagory. Hundreds. And thousands of people. There were also several stages ranging from folklorico to latin rock, to mariachi. Some good mariachi. Really a fun day and some fabulous tamales. Who knew there was a carmel apple tamale? I do now. So Mark is going to try his hand at tamale making sometime this season. We've really enjoyed cooking Mexican food lately. I digress.
There is also a wonderful little museum in downtown, near where the festival was, and along the route we planned to take home. Its some founder's house (OK, I'll look that up later) but the gardens were terrific, and we took pictures. They built the house around this courtyar, you see. Yeah, I took pictures. I even walked back the next day to measure it to make sure our courtyard is the same size.
Also in Indio is an amazing commercial nursery. Hacienda Nursery and landscaping. We spent about an hour touring the place with one of the experts, discussing plants and learning about desert gardening. Worth the entire trip right there.
| | |
| --- | --- |
| The perfect desert garden. We saw some fabulous landscaping here and learned a lot obout flowering desert plants. | Courtyard in the museum. This is oneof the first houses in the Coachela Valley, and a great representation of a desert home. We loved this courtyard. Not sure I'll do this big of a water feature but it was interesting how it cooled the whole area down. |
Palm Desert has just developed miles of hiking trails on and around the mountains. We did the "Bump and Grind" and the HopaLong" tails. I would consider them a medium challenge, and it was only about 3 miles combines, but there was some good elevation, after all the urban hiking we'd done. And some nice views. We meant to get back to do some of the others, but didn't have time. We did part of another trail near the lovely new visitor's center, but we were dressed for motorcycling and letterboxing, not hiking, so we cut it short. Did the loop within a loop, that wasn't much of a challenge. Then we rode the bike up to the lookout on that road. Now that was a nice view. The worst of it, we were skunked on the letterbox. MIA. Of the 7 we went out for that day, we got 4. I hate that. But it introduced us to the Cancer Survivor Park in Rancho Mirage, and a lovely overlook also in RM. And a very cool BLM series of trails in Palm Springs. We did plant 2 hitch hikers and 2 letterboxes of our own that day though.
| | |
| --- | --- |
| | The Bump and Grind and Hopalong trails in Palm Desert. The first goes up one side of the mountain and connects with the other to go around a come down. There are about a dozen other trails up on the San Jacinto and Santa Rosa mountains. All pretty newly developed. And busy. At lease the Palm Desert and PS BLM trails were busy. The Cahuilla Park trails were not, but that's a later story. The picture above is looking across the valley from Palm Desert south. You can see the snow on the mountains above Palm Springs |
| | |
| --- | --- |
| | We had a picnic lunch at the overlook on "scenic HWY 74". A great motorcycle road and a fabulous view. Left is me sitting on the wall looking out at the Coachela Valley (see, I AM here). Above is the Salton Sea seen in the not to far distance from the overlook. |
Cancer Survivor Park in Rancho Mirage. Truly a peaceful and inspirational place to visit, whether you have had someone in your life with cancer or not.
Food. You can't talk about the Palm Springs area without talking food. The first thing I always plan to do is hit Las Casuelas on Palm Canyon. Now, we were staying in Indio, so I was thrilled to se a Las Casuelas in La Quinta. I'd been to the one in Rancho Mirage and it is a pale senond to its sister in PS. And we we warned that La Quinta was worse. So we didn't go there. We waited until we were actually in Palm Springs, to go the the real thing. Thursday nights there is a street fair in Palm Springs, starting around 6ish. Hey, its desert time. So we thought Thursday would be a great date night. The only thing wrong with that is that Palm Canyon is shut down, pretty much end to end for the street fair, so we had to park the motorcycle wuite a distance from LAs Casuelas. Which turned out to be just fine. We sidled up to the bar, had a mega maggie each and some chips and listened to the band. Las Casuela's has always had oldies bands in the bar. Never mexican in any way. And, its the only one of the three with music, go figure. This was a pretty good band, and we danced. Great ambiance, great food, strong maggies, convivial bartenders and dance music. Woohoo. THE date night. Mark says it was the best chili colorado he's ever had. Afterward, or course, we had to make our way to Melvyn's. Melvyn's holds a place dear in my heart. Its in the Ingleside Inn, an elegant hotel left over from a gracious period in time. And Melvyns, the restaurant and bar. This place is so important to me, we actually planted a letterbox outside. Oh, and we wandered around the street fair also. Some very interesting vendors, although we'd seen a few at the Tamale Fest and the College of the Desert Weekend Fair (also a must do), but we gathered some info on some cool home products. High School bands were providing the entertainment. We listened to one high school big band that was really outstanding. My flash doesn't work that well, so no pix. But, the music teacher was entertaining, the musicians were tight and talented, and the singer, a young hispanic girl, ROCKED. She got the crowd all revved up with a rousing version of Goria Estevan's "Get on Your Feet". What an entertainer. If anyone in that crowd wasn't dancing, there was something mentally wrong with them. Its just too bad I took so few pictures that night. I guess I was preoccupied.
| | |
| --- | --- |
| Mark at the bar at Melvyn's. They even have a piano bar. Now who can resisit a piano bar? And he's pretty good. Plays the standards. You know? They type of song you can actually dance to. The dance floor is generally packed with some pretty good dancers on a weekend evening. | So, strolling back down Palm Canyon from Ramon to wherever we left the motorcycle, the street fair all packing up, we noticed this firepit upstairs. A place called Matchbox, new since our last visit here. One thing I love about the dester is the outdoors of it. Mattchbox had an outdoor bar with this fabulous firepit inserted in a cement bar. I LOVE this. So we had to have a photo. And a glass of wine of course. |
But, for the most part we were at the other end of the Coachela Valley and wanted to get to know it. Walking into La Quinta for various reasons, we kept passing this huge building with a bronzy pig out front, that turned out to be a restaurant called Jackalope, who's parking lot was always full. So, one evening about cocktail time, Mark said, let's see if they have an outdoor bar and get something to drink ... we had Bogart with us, and we'd just walked about 5 miles with a mile or so to go, and groceries in the backpacks. Now, the first thing that comes to mind, is what the hell is a jackalope, and then, why is there a bronze pig in front of a restaurant called Jackalope. That was soon made clear by the delightful staff of the Jackalope outdoor bar. Where Bogart was quite the hit. The Marie Calendar family apparently sold that chain and built a place called Babes in the River Center in Rancho Mirage. I've been there, totally unimpressed, but I never likes Marie Calendars either. So, on the success of Babes, which is huge, they leveraged everything, bought 7 acres in La Quinta and built Mega Babes. And then the patriarch of the family dies before it opens, leaving the whole thing is disaray and pretty much bancrupt. The family kept RM Babes (which was packed whenever we went by) and sold this property, building and everything in it .... including several huge bronze pigs ... to the Kaiser Family of local PS restaurants. This place rocks. We were there several times. Not only is it absolutely gorgeous, the food it good. The restaurant and bar a very cool, but the outdoors? Man, its a paradise.
One of the 5 or 6 bronze pigs around and in Jackalope. This one is in a fountan thingy at the entrance. On the right is a shot of one of the several waterfalls in the lush gardens off the patio dining area. Lots of heaters around the patio. The bar was built kinda like a palapa.
The locals hangout we liked best is Neal's, right around the corner from us. Neal's Cowboy Bar considers itself the locals dive bar. Locals yes, dive bar no. No dive bar has the beautiful bathrooms that Neal's does. Apparently it's just all been remodeled inside and its really nicely done. Pool tables, a nice bar, a dance floor and karaoke every night. Although we were there several times, we never made it to Karaoke. The had a contest the Tuesday after Tahnksgiving and we intended to go for that but we forgot. Old age sucks. We also liked the Backstreet Brewery, and their pizza was fabulous.
Mark walking up to order a drink from Mark the bartender. Nice guy. Neal's Cowboy bar was completely decorated for the holidays, lights everywhere. If I hadn't met the owner, I'da bet a chick ran this place. Cute inflatable with Santa popping out of a chimney on the dance floor. Real nicely done.
We enjoyed staying at the Elks because it was in the middle of everything and we could walk everywhere we needed to. But Elks are very friendly and we're not. Oh, we met some nice people: a couple next door to us for a couple of days had a macaw named Ticktock who came to visit Bogart a few times. But we decided to move to Lake Cahuilla, a regional park about 10 miles east. Good move. Nice park, quiet and secluded campground, and lot of hiking nearby.
Of course, the hike with the best views was the one I did by myself and I forgot to bring a camera. There was this one great shot of the lake from on top of this mountain. But I didn't get that. I didn't bring a frikkin' camera. I did bring my walking stick and pretty darn glad I did or I woulda been in a heap at the bottom of said mountain. The trail up was nice and meandering. You now, the kind that you look behind you after a while and realize that, whoa how'd I get all the way up here. A lot of elevation snuck up on me. Then I had to climb to get to the top, but I like up. The views rocked. Coming down was an entirely different experience. Steep, narrow, loose rocks and dirt. Sucked. And the stick saved my ass on at least 3 occassions.
One hike took us from the Lake straight into Old Town La Quinta. Well not straight actually. It wasn't really well marked and there were times we were wandering around and "hey, over here, I think this is the trail" sort of thing. It went through valleys of sand (walking in sand is so much fun. Not.) and over hills, by a golf course, and then through a neighborhood. We liked that part, looking at houses. Lots of houses, but not a tract because no two were alike. Got some great ideas about desert buildings. Based on the new gizmo Mark has, we figure we did 11 miles that day. But we did have a nice lunch in Old Town.
Pretty much the same shot: left on the way out; right on the way back several hours later. Only thing wrong with this hike was that you had to go back the ame way. Kinda. Loosely marked trail meant it wasn't exact in a lot of places. This is from an elevation looking back over the valley we had just traversed, or were about to.
| | |
| --- | --- |
| Mark and Bogart along the Morrow Trail | The golf course below us from the mountain rim |
| | |
| --- | --- |
| Mark and Bogart on the patio of El Ranchito Mexican restaurant where we had lunch | This house had a lot of features I wanted to remember |
| | |
| --- | --- |
| | Cooper packed himself in the backpack for the hike. Have you ever seen a sadder face. Hey, dude, learn how to walk on the leash and you can go with us. |